A new work by floral artist Hikaru Seino has been released.
Covid-19 is now causing many conflicts around the world.
Hikaru, who has always shared the message of peace, fears that this worldwide pandemic will lead to the World War III.
This quietly completed work has a mysterious atmosphere. A Moss shaped like a "Mushroom cloud," which reminds people of Hiroshima and Nagasaki, is the cloud's shape when the atomic bomb fell in 1954 during World War Ⅱ.
What do the mushroom clouds covered with moss and other plants mean?
As a human being who respects nature, Hikaru conveys his thoughts to society, especially now because people's minds and emotions are hardly shaken by Covid-19 and too much information.
How now, did you come to create a work that considers peace?
I am not a war critic. There are just, too many conflicts going on right now.
All over the world, all at once, for the first time.
We live in an age, where social media, has eliminated the barriers between the world and everything seems to be our own problems.
Previously, people were always concerned about their own countries, but now, we are living in this one big world.
On the other hand, there's too much disparity.
People gather and try to criminate others. They say, "Let's all get together, and show who is wrong."
When times and values change greatly, wars and conflicts are more likely to happen.
And there is the nucleus that could kill billions of people.
I don't expect I could stop them, but I made this "mushroom cloud" into a moss,
because I want to tell people that "the mushroom cloud is old", and that the "conflict is old".
As a Japanese, with the "atomic bombs" falling on Nagasaki and Hiroshima, I remind many of that fact.
but the moss is already growing.
We don't need to do it over again. To me, this shape is a symbol of peace.
A lot of people in many countries are not in an environment where an "atomic bomb" fell, or where there are museums that tell them the story.
But today, to be honest, every country can drop it. If they really want to start a war.
And that weapon has fell on Japan first. Suddenly. In a flash.
And that is why I need to show it to the world.
Why did you name this product "Symbol of peace"?
Just "remember what happened!" is not the message.
Of course, we shouldn't forget it. There are a lot of people who are still suffering.
And of course, there are many opinions.
It is free to look at this art, and see what you think.
But I have not put any offensive feelings into this work.
If we want to do it again, we will see this form once more in the sky.
But each time in our lives has already passed and the moss is already growing.
The story of how we got here is packed in this work.
What we all want is only peace.
We all travel to say the mountains, nature, and moss are beautiful.
We go to see the bamboo forest, and we go to relax in front of the ocean.
Maybe it would be better to pay a little more attention to nature and the earth.
Why do you use plants in your work?
I work with plants and flowers, because it's the most unrealistic thing in the world.
In the old stories around the world, there are always fairies and miracle creatures. And they often help people.
I always think that was drawn, by seeing bees and insects in the first place.
What I want to say is, when winter comes and the plants die.
From a human view, it's just a story that ends with them saying, "oh, It's Autumn again."
But it's a miracle what's actually happening. Trees gather nutrients in the stems, and the leaves turn red and fall off for them to live the next season again. The insects, the creatures, are moving on their own and they're alive again in the winter and the next spring.
If you ask me to make them on my own, I can't. Even one of them. but there are thousands of them actually existing. And it's exactly the same with flowers.
When I use plants and flowers in art, it means that I am using the original source of the earth.
I have something I want to share with the world using the help of nature, what I respect most.
To begin with, Miracle. I am happy to show you that Miracle is all about the rain and the trees growing up. There is no other word for it.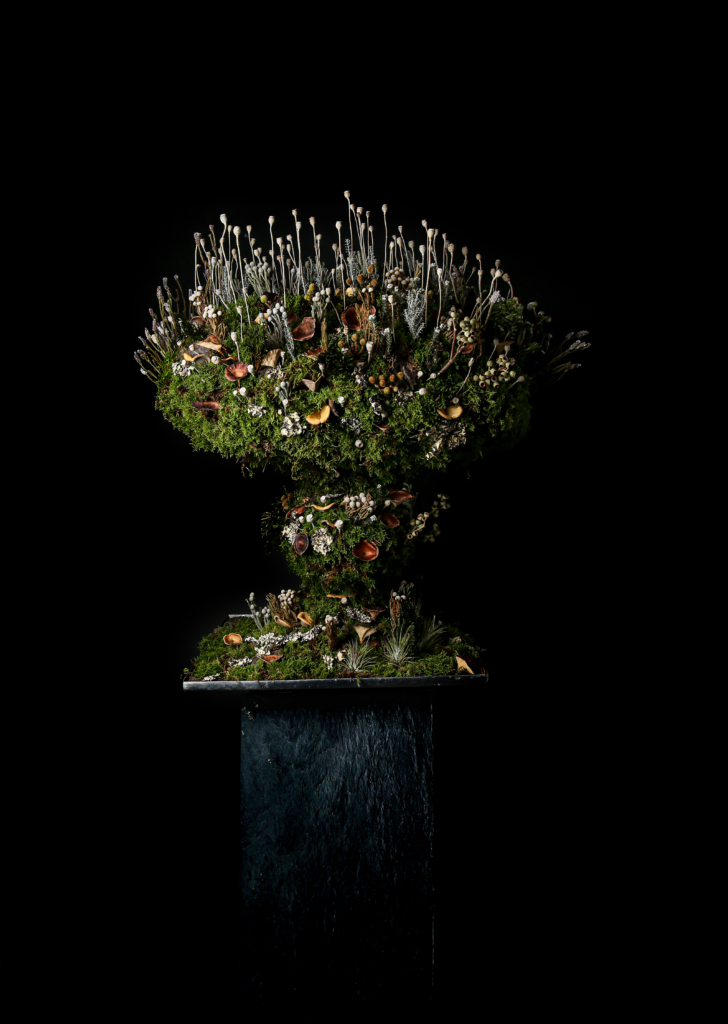 About flower artist Hikaru Seino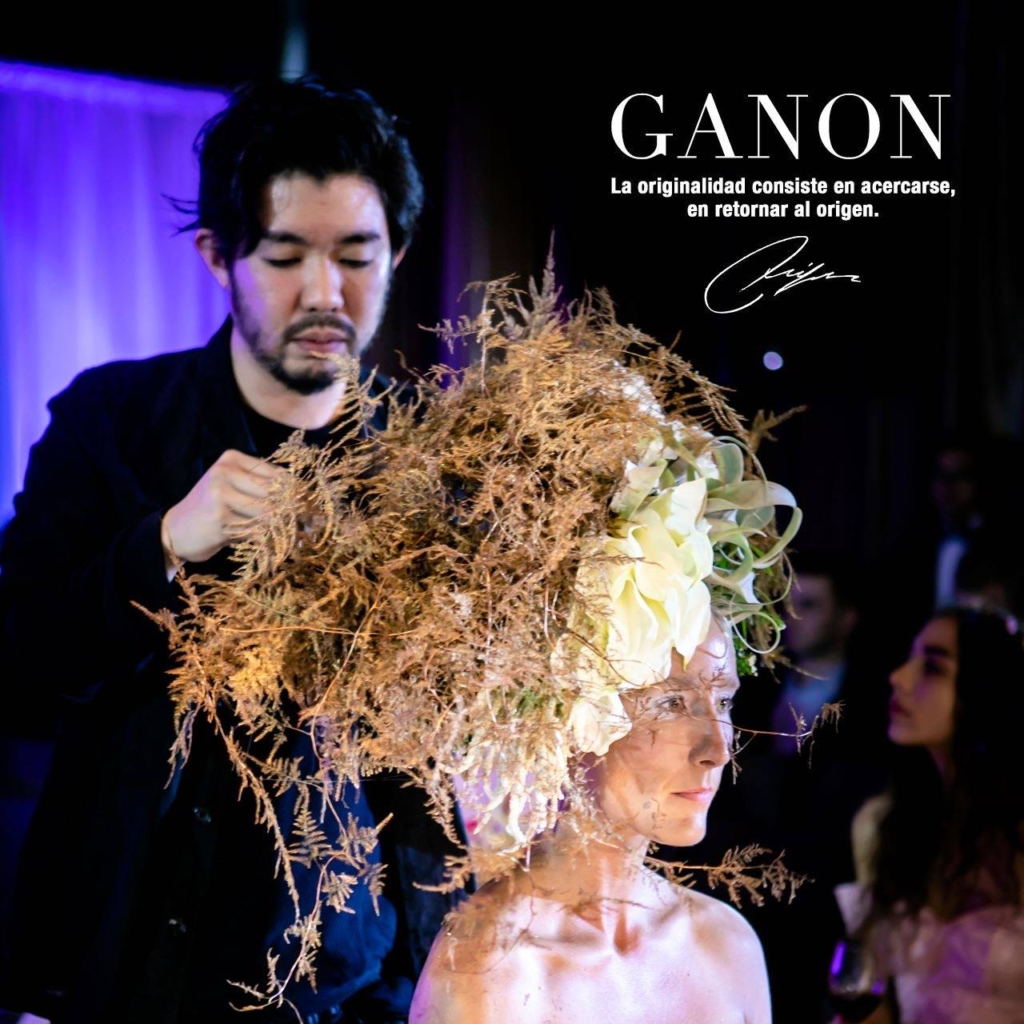 GANON FLORIST, led by flower artist Hikaru Seino, is a team of florists who spread flowers to create an era where nature and people can coexist.
They have organized fashion shows abroad, and has worked on the entrance of Roppongi Hills Mori Building and Kate Moss's party. Not only creating floral arts, Hikaru has been invited to give lectures as a maestro at Gaudí architecture shows in Spain.
He is also well known throughout Tokyo and the world for producing the HANANINGEN (Flower Human) Project, which he started to create a relationship between people and flowers.
Currently, he has more than 10 shops in Japan, Bangkok, and elsewhere.
Hikaru Seino Instagram